[ad_1]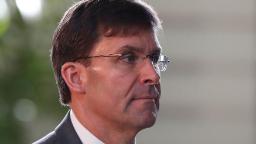 "I think acting Secretary (Thomas) Modly made a very tough decision — a decision that I support. It was based on his view that he had lost faith and confidence in the captain based on his actions," Esper told CNN's Jake Tapper on "State of the Union." "It's just another example (of) how we hold leaders accountable for their actions."
Capt. Brett Crozier was relieved of his command last week by acting US Navy Secretary Thomas Modly, for what Modly called "poor judgment," going outside the chain of command and too widely disseminating the memo over an unsecured system.
Asked by Tapper if a current investigation into Crozier's actions should have been launched prior to his removal, Esper said such a decision was "not unheard of" in the Navy.
"All the services at times relieve commanders without the benefit of an investigation up front because they have lost confidence in them. It's certainly not unique to the Navy. The Navy has a culture of swiftly and decisively removing captains if they lose confidence in them," Esper said.
CNN previously reported that as of Saturday, 155 sailors from the Roosevelt have tested positive for the virus, according to the Navy.
This story is breaking and will be updated.
[ad_2]

Source link